Earlier this year when organizations across the world were forced to change the way they work and transition into remote working, employees had to quickly adapt. Living rooms became boardrooms, family members became office mates and virtual collaboration became the lifeline for work. While these arrangements enabled employees across the globe to stay productive and meet customer needs, it is having negative impacts upon employee's wellbeing in the long run.
Over 30% of Firstline and information workers said the pandemic has increased their sense of burnout at work. And one-third of remote workers said the lack of separation between work and life is negatively impacting their wellbeing.
Microsoft Work Trend Index Report
Remote working has definitely increased the workplace stress for Firstline and Remote employees. The in-office, nine-to-five workdays have now been replaced by fluid work models and flexible hours where people are spending more time communicating digitally, especially after office hours. Workdays around the world have significantly increased in length and the lack of face-to-face communication is making people feel isolated.
The time has come for organizations to stop worrying about employee "productivity" and focus more on approaches to prioritize employee "wellbeing". During its Microsoft Ignite 2020 virtual conference, Microsoft introduced a number of new features to its fastest-growing workplace communication and collaboration app – Microsoft Teams. These features will enable "leaders to prioritize wellbeing for every employee, help structure the day, make space for breaks, nurture relationships, and stay on top of tasks."
New Employee Wellbeing features in Microsoft Teams
Personal Productivity Insights
This feature enables the employees, managers, and business leaders to harmonize well-being with productivity. Powered by Microsoft Graph and backed by trusted privacy safeguards, the productivity insights and recommended actions will enable organizations to move well-being to the top of their priority list. It will allow users to reserve mental bookends for a remote workday and make it easier to productively start and mindfully end the workday. There is an option to create reminders about scheduling breaks before a calendar gets filled with meetings.
Personal Productivity Insights are also available in Outlook. A daily briefing from Cortana, enables users to start their day with full knowledge about opportunities to connect, meetings to prep for, and commitments to follow up on. There is also the MyAnalytics digest email, which helps users to reflect on their balance between focus work and collaboration, the strength of their network, and their ability to disconnect and recharge.
Manager & Leader Insights
The role of managers has evolved over the past eight months. In these times of change, Managers have become the torchbearers of change. They are helping team members prioritize, stay connected & productive, and protect their interests. Microsoft Teams' Manager Insights feature provides managers with better insight into their team's wellbeing. The feature enables managers to gain insight into various teamwork factors such as after-hours collaboration, meeting effectiveness, focus time, and cross-company connections alongside a comparative study of similar teams. Further features coming to Teams in 2021, will allow managers to launch and track wellbeing programs that remind team members to avoid after-hours interactions and preserve quiet days.
As organizations face uncertainty and change, business leaders need visibility into how work is evolving and how these changes are impacting the creativity, productivity, and innovation of employees who will propel the organization into the future. Powered by Workplace Analytics, leader insights will answer various important questions about employee wellbeing such as "Are employees at risk for burnout? Are people maintaining strong internal connections? Are relationships with customers being maintained?". These insights act as a health monitor for organizational resilience. The business leaders can track various indicators of employee wellbeing, respond to irregular rhythms with research-backed best practices, and measure the impact of change over time.
Virtual Commute
Commutes can serve as meaningful transitions at the beginning and end of the workday—and that the reflection we do during that time can increase productivity by 12-15%.
Microsoft Work Trend Index Report
While most people may not miss that hour of traffic at the end of an exhausting day at work, but commutes to and from the workplace can be immensely useful in avoiding burnout and staying productive. However, in the remote working normal, the move from one room to another isn't enough of a kickstart to get employees into work mode. When your home life and workplace are only a few steps away, it can have an impact on your wellbeing. So, it's time to recognize the value of commute.
Virtual Commute which will be rolled out in 2021 will allow business leaders to schedule a virtual commute for their employees. This feature will enable employees to have a productive start in the morning and mindfully disconnect in the evening.
Virtual Coffee Shops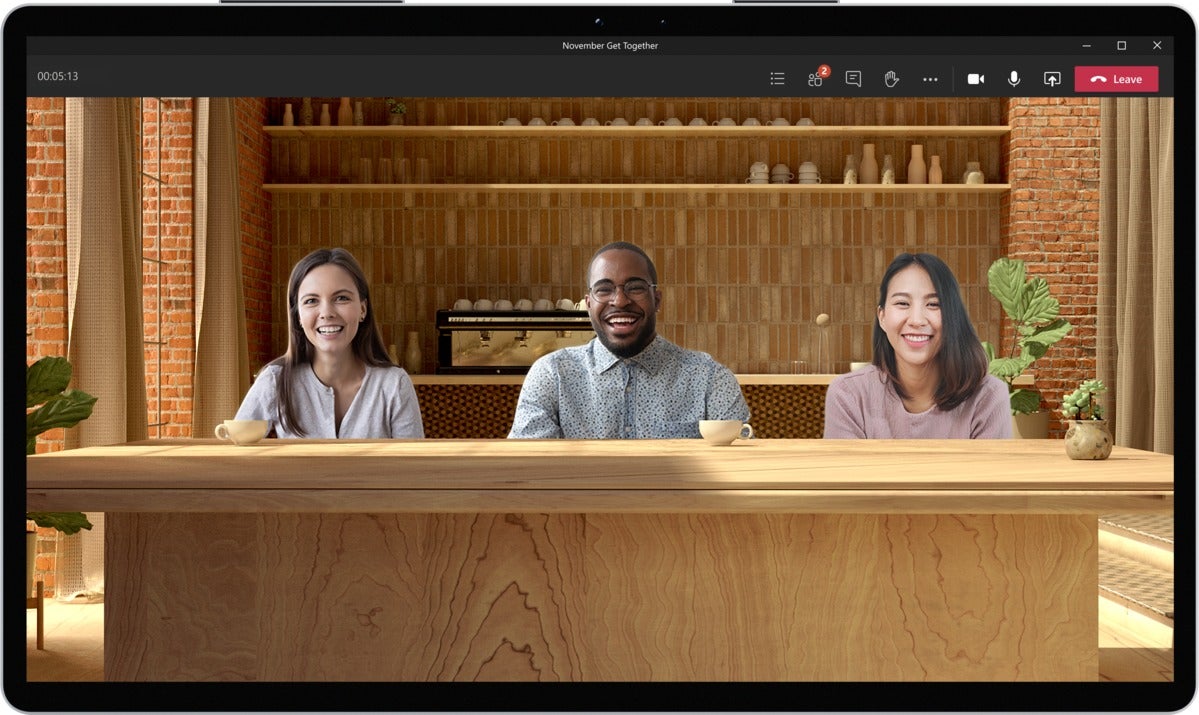 Water cooler and coffee break chats deliver the much-needed break and relaxation to employees during the usual office hours. As social animals, we Humans crave interactions and some caffeine even during such times of social distancing. Virtual Coffee Shops, which is a part of the AI-powered Together Mode announced earlier this year, combines these two together. It allows employees to schedule interactions with their team members with a coffee shop background. Microsoft will utilize Machine Learning to automatically scale and center meeting participants in their virtual coffee shop seats, regardless of how close or far they are from their camera.
Mindfulness and Mental Wellbeing
Over 29% of employees said they have been experiencing negative impacts of remote working on their mental health.
Microsoft Work Trend Index Report
Stress and burnout can have serious implications on the physical and mental wellbeing of employees. Microsoft Teams enables organizations to look after employee wellbeing with features such as virtual coffee chats, check-ins, and helpful internal communications. However, a global study has found that 70% of people think meditation can help remote workers relieve their work-related stress, and science backs this. Towards this, Microsoft has partnered with Headspace, an app used around the world to teach people mindfulness. This partnership will bring a curated set of mindfulness experiences and science-backed meditations into the flow of work in Microsoft Teams.
These new features further enhance and complement the rich capabilities of Microsoft Teams. They enable employees, managers, and teams to balance productivity with wellbeing. At AgreeYa, we offer Microsoft Teams consultation, deployment, customization, and support services to help organizations meet their remote collaboration requirements in the ever evolving digital world. Contact us for further information.